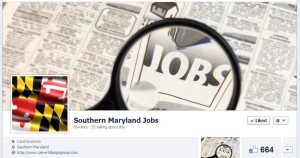 I recently started a Facebook page named Southern Maryland Jobs (http://www.facebook.com/southernmarylandjobs) as a way of giving back to community.  A big part of our business at Calvert Design Group is social media internet marketing in Southern Maryland (and nationwide).  I saw an opportunity to use a platform I was familiar with to help people who are in need of jobs.
It seems now to me like the logical next step would be to create a Facebook page that supports local business for Southern Maryland.
So I would like to announce and share with you Southern Maryland Business on Facebook (http://www.facebook.com/somdbusiness).
It is a place to openly promote your business by offering specials, network with other business owners, and connect with prospects. There are plenty of networking opportunities and groups in Southern Maryland but most of them come with a price tag. And others only allow a single business from a given industry per group.
As you are starting up a business, or looking to grow one, sometimes that just doesn't work. Hopefully this will serve to be a great place to get a jump start, promote your business, and provide some great deals to the people of Southern Maryland.
And it is a place for consumers as well – watch for specials, deals, coupons and announcements from local Southern Maryland businesses!
Only a couple of rules…
Be honest.
This is not a review site – there are other places to go for that. Recommendations are fine and welcome, but I will not police derogatory comments so they will not be accepted.