Early in March Facebook updated their rules and guidelines for cover photos. Facebook cover photo guidelines state that cover photos may not include more than 20% text. The great news is they removed restrictions prohibiting calls to action, website URLs, or physical addresses.
So how exactly do you determine if your Facebook cover photo is in compliance with the 20% text area rule?
You basically have two options in my opinion. One option is an online, automated compliance tool. The second is a manual approach that yields more accurate results.
Facebook Cover Photo Guidelines Compliance – Option #1
Enter the Cover Compliance Tool by Paavo. It is designed specifically to assist you in determining if your cover photo is compliant. Simply enter your Facebook Page URL or ID and click the blue button. On the resulting image select each block containing text. The tool will automatically calculate your cover photo text percentage.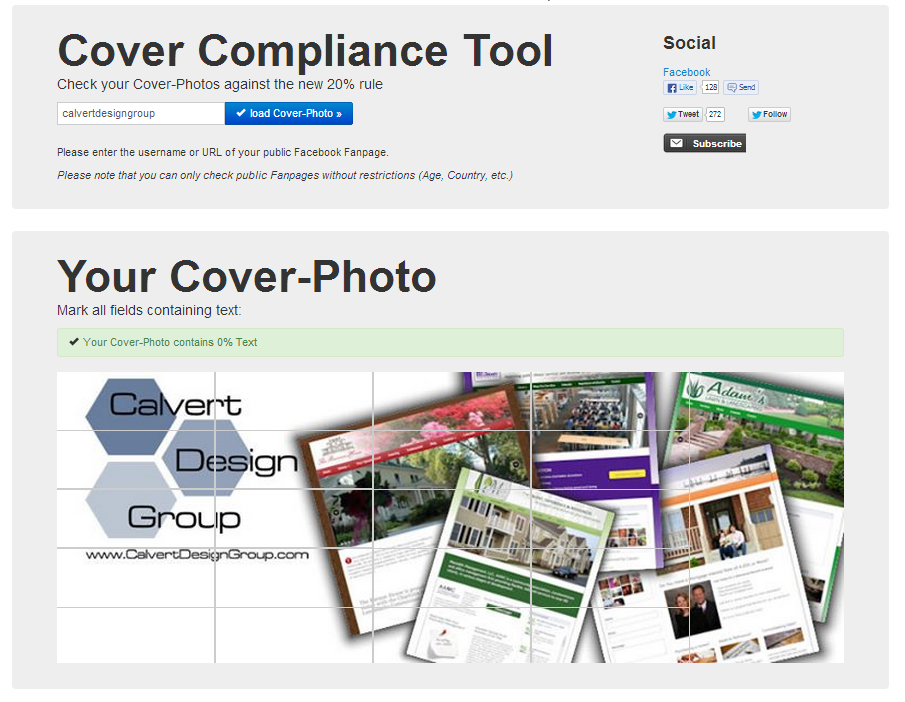 You can see it appears that the cover photo for Calvert Design Group is not compliant, but when we examine it with the next option we can easily see it is compliant.
Facebook Cover Photo Guidelines Compliance – Option #2
We all know by now that a Facebook cover photo is 851 pixels wide by 315 pixels high. Taking those dimensions into consideration we know that a rectangle 170 pixels wide by 63 pixels high will be equal to almost exactly 4% of the area of the image. Working in your graphics editing application of choice create a new layer and add a slightly opaque rectangle matching those dimensions. Now duplicate that layer 5 times and slide each layer to cover the text in your graphic. If you have more text than can be covered by the 5 layers your Facebook cover photo is NOT compliant.

You will also want to note that the 20% text policy does not apply to embedded product photos that include text on the actual product.
Facebook Cover Photo Guidelines – Relaxed "Calls to Action"
Here are some new Facebook cover photo guidelines that are now relaxed you may want to explore with your Facebook page.
– You can now include calls to action such as "Click Like!" with an arrow or "Call Now!"
– Include your phone number of your cover photo.
– Add your slogan or tagline to your cover photo.
– Feature your website URL prominently
Facebook is obviously realizing the importance of the cover photo. It's up to you to make it more visually engaging and interesting.
If you still have questions Facebook released a post that clarified how the 20% area is calculated and outlining what is acceptable.
Since these Facebook cover photo guidelines have now been updated it is more important than ever to make sure your cover photo is in compliance.
Share your Facebook cover photo creativity with me on our Facebook page.